Last week the Pantone Company announced the color of the year for 2014- "Radiant Orchid". The new selection is described as "a captivating, magical, enigmatic purple" in the company's annual announcement.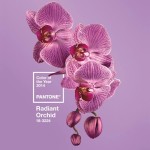 Leatrice Eiseman, executive director of the Pantone Color Institute, depicts the new color as "an invitation to innovation, expanded creativity and originality".  She continues that "it is a captivating purple, one that draws you in with its beguiling charm".
The selection of the "color of the year" is made by Pantone Company after consulting with representatives from color standards groups from various nations.  An additional color palette is selected for the upcoming year.  These color suggestions help guide fashion, beauty products, interior design and other consumer products.  Color influences for the suggested palette come from the entertainment industry, popular travel destinations, traveling art collections and other cultural or economic conditions. 
The press release suggests that "Radiant Orchid" complements olive and deeper hunter greens and is "a gorgeous combination when paired with turquoise, teal and even light yellows".  It also would look great with the many popular gray colors seen everywhere in interiors and cabinet offerings.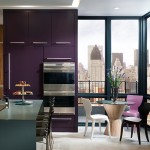 It's not surprising that a member of the purple family was selected as the color of the year.  Several years ago at the Cologne Furniture Fair numerous furniture and cabinet manufacturers were showing a rich purple color a bit darker than the "Radiant Orchid". 
photo courtesy of Wood-Mode Cabinetry