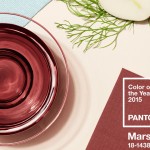 Every year Pantone selects a "Color of the Year".  For 2015 the color "Marsala", a rich and robust earthy wine red color, was selected.  Leatrice Eiseman, the executive director of the Pantone Color Institute, explained the selection by saying "much like the fortified wine that gives Marsala its name,  this tasteful hue embodies the satisfying richness of a fulfilling meal,  while its grounding red-brown roots emanate a sophisticated natural earthiness".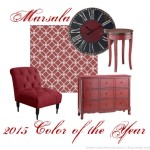 The color Marsala has already shown up on the fashion runways and interior furnishings.  The hearty but stylish tone is universally appealing and translates easily to fashion, home furnishings and interiors.  The dramatic color brings warmth to interiors.  The color will add elegance to any home interior.  Many home products companies, from cookware to bedding and towels are adding the color to their product mix.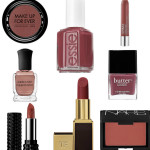 Many manufacturers of beauty products are also showcasing the new color selection.  The color is flattering to many skin tones.
The Pantone Color Institute is a wholly owned subsidiary of X-Rite, Inc.  Pantone is a global color authority and provider of professional color standards for the design industries.