Each year during the last week of February my husband and I stay at our time share at South Lake Tahoe.  Usually we downhill and cross country ski.  Unfortunately, the winter of 2013-2014 has been the driest since record keeping began 150 years ago.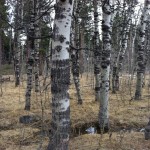 With no snow at lake level we decided to hike instead.  Our trek was taken on small roads and trails near Fallen Leaf Lake.  We departed in mid morning under an overcast sky.  Our first interesting spot where we stopped to carefully observe our surroundings was a patch of aspen trees with rather uniform markings around the trees at a height about 4-5 feet above the ground.  These markings evidently are from deer eating the bark in winter.  The scars left from this munching make contrasting dark shapes in the white bark.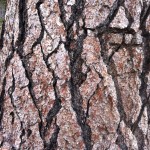 As we walked along I began to notice more patterns in the bark of trees, moss and lichens, leaves and branches.  Perhaps it was because the light was so flat and diffuse that the patterns really popped.  I decided to get out the camera to take a few photos.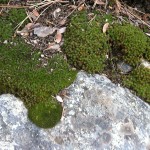 My disappointment at missing the chance to cross country ski was replaced with a fun anticipation of trying to find more interesting patterns and shapes.  Although I'm not much of a photographer, it was fun to document what I saw.  Even the rust stains on a large rock formed an intriging pattern.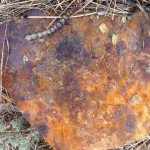 The chance to find the interesting patterns and shapes we observed made up for the lack of snow.