As the former representative for Wood-Mode Cabinetry in Northern California and Nevada, I have enjoyed the opportunity to visit a number of cabinet installations. As part of our duties as the rep agency, we checked all the orders submitted in our territory against the floor plans. So I have viewed probably several thousand cabinet layouts over my career.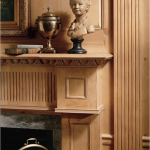 From this experience I have seen first hand the importance of good detailing. What does this mean? Good detailing can be seen in the small fine points.  How do the mouldings fit together when installed? Do the drawers in the corner clear each other when opened? How is the depth of the countertop accommodated next to a tall cabinet? It takes time to develop the skills necessary to create designs that pay attention to details.  Some of this knowledge is learned through practical experience (sometimes through making an error!) and observation. Some knowledge is provided by manufacturers through their product specifications or product training. Visiting trade shows and factory showrooms provides designers additional opportunities to view cabinet installations.
A good designer is able to think and see in three dimensions. This ability helps the designer look beyond the flat floor plan to prevent clearance problems, oddly sized doors or awkward looking conditions.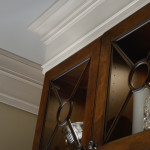 Good detailing can also mean creating special moulding combinations, unique embellishments, or features that reflect the personality of the client or the house for which the design is created. Good detailing also demonstrates the compentency of the designer. Good detailing can provide delightful touches that enhance the room for the client.
(photos courtesy of Wood-Mode Custom Cabinetry)