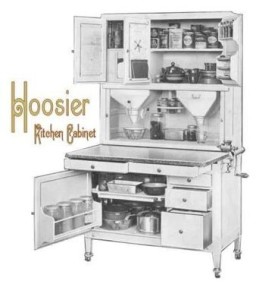 If a person thumbed through popular women's magazines, such as "A Woman's Home Companion" or "Ladies Home Journal", one hundred years ago one would see advertisements for a work center or kitchen cabinet that commonly became known as a "Hoosier" cabinet, named after the preeminent manufacturer of the kitchen center units. Built-in cabinetry so standard today would not become common for several more decades.
These units, which were about four to five feet wide and about six feet tall, were welcomed as a time saver for housewives. Just as efficiency in the office and on the manufacturing floor was being studied and quantified, so was the efficiency of the American home. Harrington Emerson, the "father of efficiency engineers", proposed that the use of these units could reduce meal preparation time by half.
A study commissioned in 1920 by the U.S. Department of Commerce found that the use of a work center could save the American housewife 1,592 of the 2,113 steps she took in her kitchen every day. These cabinets consolidated baking and storage items in a small space.
Using imaginative wording that would make Don Draper of the hit television show Mad Men jealous, the advertisements touted that these units would "add zest to daily duties", be "labor saving- step saving" and be a "lightener of dreary routine". Manufacturers placed numerous advertisements in magazines and newspapers describing the easier life a housewife would enjoy if she owned a kitchen center.
The original design is thought to come from the "baker's cabinet", which had a work top with storage above. The new units contained bins for flour, sugar and coffee. Spices, towels, mixing bowls and linens all had a place in which to be stored. A cabinet below had space for pans and lids with drawers on the side. A countertop, which often pulled forward for more space, was made of wood, zinc or porcelain covered metal. Some units had a built-in flour sifter, pull out bins, a bread board for cutting, and even an ant trap (whatever that was!)
The state of Indiana became the center of manufacturing for the kitchen cabinet industry. Because of abundant forests containing oak, hickory, maple, elm and beech, Indiana had a thriving lumber and furniture industry. Dozens of manufacturing companies produced thousands of these units per week during the first two decades of the twentieth century. They were sold across the country in department stores such as Macy's and Gimbels, and by furniture retailers and factory agents.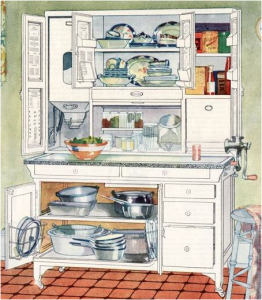 The cost to purchase the "dream kitchen" in 1905 was from $15.75- $54.00, depending on how large and how many features were included. This may not seem like much today, but when the average yearly salary for an American was about $400-600, its purchase would have to be carefully budgeted. In 1914 an advertisement for the Hoosier company in the "Saturday Evening Post" promoted a buying plan of $1 down and the balance to be paid at $1 per week (with no interest charges).
Judging from the popularity of the units the kitchen center was truly the "Dream Kitchen" for our grandmothers and great-grandmothers.